About the Parish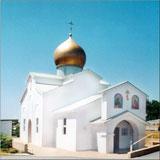 The Russian Orthodox community was established in Western Australia in 1950 by Father Athanasius (Mogilev), who came to this state for ministry in the immigrant camp - Northam. Soon after, a new parish was founded in Perth by Sergei Putilin. The first worship services were held in an Anglican church hall, however the laying of the cornerstone ceremony occurred on Monday, 25th of May 1953. On Thursday, 14th of October 1954, during the fiest of the Intercession of the Holy Virgin, Archibishop Theodore consecrated the first St. Peter and Paul church in Western Australia, Perth. A priest of the Serbian Orthodox community – Fr. Peter Radosh, who carried out the pastoral care of the parish from 1969 to 1990 and has inspired the construction of a new brick church, was also present at the consecration.
The new St. Peter and Paul church was built on the site of the old church in 1990 by the architect Alexey Somov in the style of traditional Russian Pskov churches and was consecrated by Archbishop Paul on the first Sunday after the feast of the Saints. Archpriest Sergei Okunev has been the church rector since the 27th of June 1997.
A more detailed history of the parish can be found here in Russian.
Registration of the church